Full Nut & Bolt Restoration
A recent restoration project from 2018 saw a desirable 1990 Porsche 964 C2 Guards Red Coupe with age-related rust on the bodywork, come to SCSPORSCHE for a full nut and bolt restoration.
After consultations with the customer, it was decided that he would go ahead with the investment of full bodywork and mechanical restoration, as well as a Porsche RS-style makeover. You can read about our restoration story, and how this two-year project finished with a custom 911 and a brand new lease of life.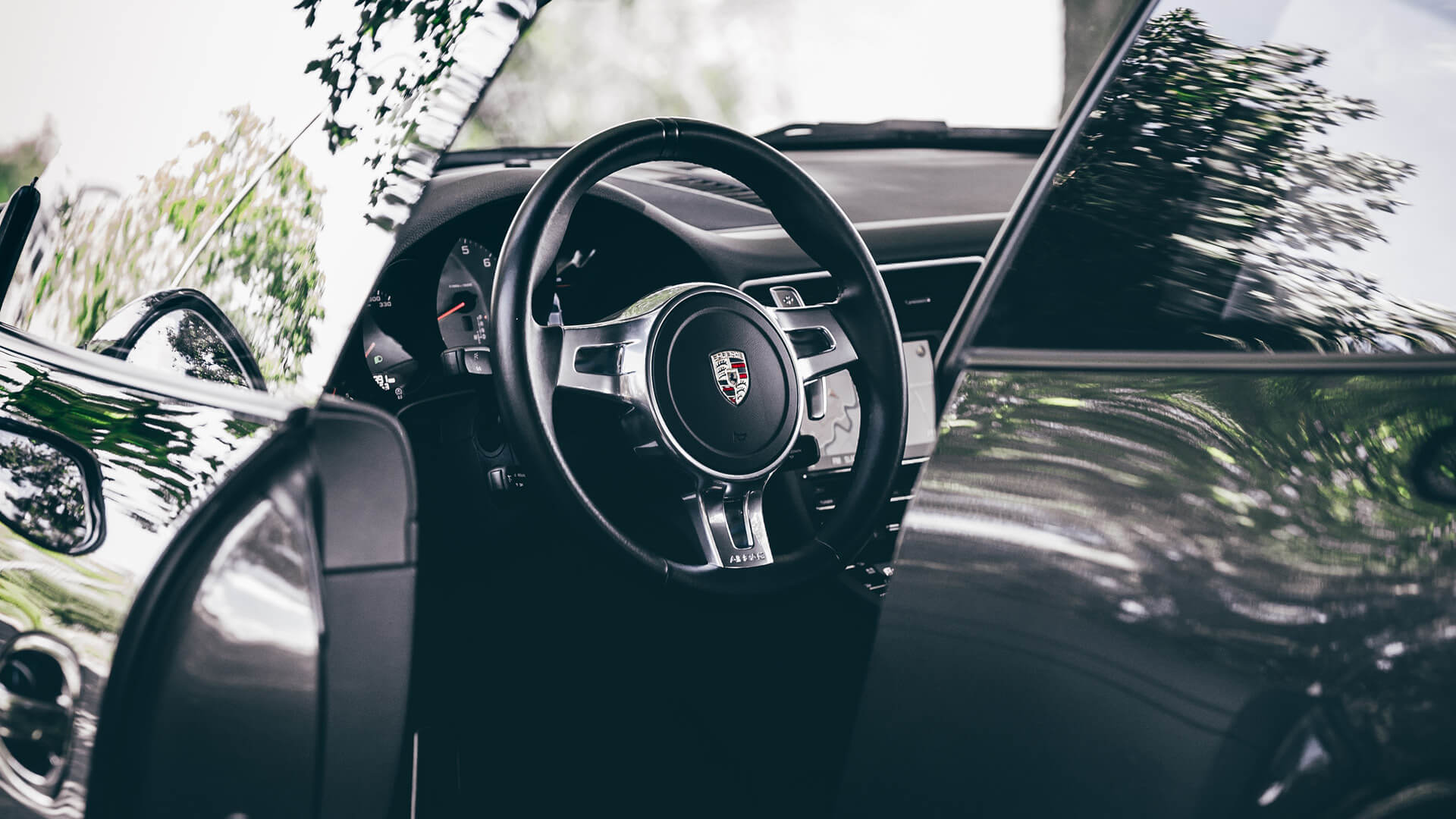 Porsche 964 C2 – (Guards Red)
Over the period of 2018 to 2020, SCSPORSCHE was commissioned to carry out a nut and bolt restoration on a 1990 964 C2 Coupe. The car was a desirable factory, non-sunroof, non-rear wiper model, and after involved consultations between us and the customer, it was decided to give the 964 an RS-style makeover.
Bodywork
After stripping the car to a bare shell, we sent the shell onto our approved body shop who put it on a rollover chassis jig, allowing full access to all areas. Although the body was in good condition, any age-related rust found was cut out, with the area being treated, before the underside was completely re-seam sealed with the correct sealer.
The car was then given a new coat of gleaming Guards Red top-coat paint, while the underside was treated to a full body colour coating, giving it a better than factory finish.
Suspension, brakes, and wheels
While those bodywork repairs were underway, our team stripped all the suspension components. In turn, we vapour-blasted all the alloy suspension arms, sandblasted and powder-coated the steel components, then re-bushed the suspension with SuperPro Bushes (with a lifetime guarantee).
We also completely rebuilt and upgraded the suspension using Bilstein shock absorbers, H&R springs, H&R anti-roll bars with Targett drop link rose joints, while setting it to RS ride heights. The suspension was fitted back onto the car at the body shop with a reconditioned steering rack, allowing the car to be a rolling shell.
Once back with us at SCSPORSCHE, the brakes were upgraded using a Big Red conversion on the front, and a 4-piston Brembo kit from a 993 to the rear, with cross drilled 964 RS discs. Using the correct Porsche Cup 1 wheels for the model, we also fitted Porsche approved tyres.
Engine, clutch, and gearbox
Stripped and measured for wear, the engine's bottom end was in surprisingly good condition. But we gave it a new set of bearings, while replacing the oil pump as a precautionary measure, together with the head studs which we replaced and upgraded to ARP competition studs – perfect for performance cars.
Being an early 964 engine, the barrels and pistons were upgraded to a later style with head gaskets, and the cylinder leads were modified to fit. Also, new valve guides were installed. New brushed black satin Billet cam covers were fitted to match the engine detail and all tinware was powder coated for a long-lasting finish.
We also fitted a de-cat pipe to the exhaust for cleaner emissions, and added a Steve Wong performance chip to the ECU for maximum performance. The old flywheel was changed to an RS solid flywheel, while a clutch kit with an MPL performance clutch slave cylinder was linked to a new master cylinder by a SCSPORSCHE braided clutch hose.
Just like the engine, the gearbox was also stripped and measured for wear. installing a Wavetech slip unit, we replaced all the bearings, together with the addition of all new sync rings. The depth of mesh and backlash were also reset using the correct Porsche tools.Interior and exterior finish
To complete the RS look, we fitted a lightweight RS carpet set, together with extra sound proofing for quieter and more comfortable motoring. We also smoothed out the rear seat brackets which were left in to allow rear seats to be refitted as and when required.
We added a Wiechers colour-coded roll over bar, plus RS door cards with RS inner door handles. Recaro pole position seats were deliberately chosen and installed, featuring red 3-point seat belts to match the Carrera RS logo on the rear carpet.
After stripping and cleaning the air
conditioning system, our trained technicians converted it from the old R12 system to the more environmentally-friendly R134A gas and replaced every seal with new. Together with new evaporator and condenser replacements, we also replaced every rubber pressure hose to ensure system reliability.
After completing the restoration work, all that remained was to carry out a full detail and protect the paintwork with a Gtechniq ceramic glaze coating treatment. We also protected the underside and running gear with the correct wax oil, while the engine and gearbox were coated in a high temperature Dinitrol corrosion protection wax.
The results
It's taken many months to get there, but this entire project has been a fantastic opportunity for our restoration team at SCSPORSCHE. Carrying out all the work to such a high specification, we worked closely with the customer to build a bespoke 911 like no other, using a range of quality aftermarket and SCSPORSCHE developed parts and techniques.
It's been a major investment for the customer and we hope they enjoy many happy and exciting hours of motoring.
Contact SCSPORSCHE
Do you have a 964 or any other Porsche you're thinking of selling? SCSPORSCHE has a matchless collection of pre-owned customer Porsche cars for sale and we'd be more than happy to offer you a no-obligation valuation.
01404 549921
Sports Car Services (SW) Ltd
Unit 1 Otterdale, Nags Head Farm
Nags Head Road, Honiton
Devon, EX14 3AW
Sports Car Services (SW) Ltd is not associated or approved by Porsche AG or Porsche Cars GB Ltd.